My first visit to Italy was in 1982 when I travelled through Europe with a backpack, a good friend, 2-1/2 months to kill and an ever decreasing budget. The lowest point of that trip was the day I that I learned about young Yugoslavian Gypsies and how they could surround you, confuse you and pick your pockets clean. At that point, I never wanted to see Italy again.
When Moe and I were planning our 2001 trip to Europe, I was eager to revisit some of the places that I had enjoyed to share them with her, and I wanted to shake the distain that I held for Italy. We passed through Italy twice on that trip, once in Venice on our way south to Greece and again on our way back through Rome (a much better experience that time) and the Italian Riviera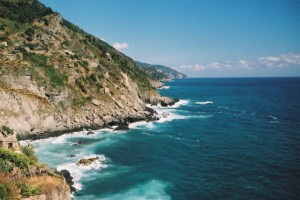 One of the highlights of our trip was near the end, when we spent several days in Vernazza in the Cinque Terre region. After the hustle, bustle and stress of Rome, it was just the kind of holiday that we needed in our vacation.
The Cinque Terre is a string of five small towns that are connected by a walking trail, a smelly train and the sea. We spent our days walking between the towns with a stop for lunch and a half litre of the local white wine and our nights eating in our little apartment, or at the seaside restaurant where the menu would change daily.
Once a week, the travelling market would roll into town and take up the whole main street that ran from the sea up to the train tracks at the top of town.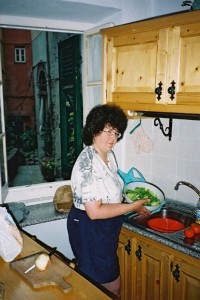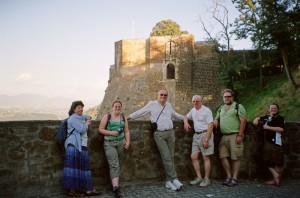 When we visited Italy again in 2006 with our daughters, my brother and my parents, the highlight once again was a small town with personality. This time it was Orvieto in the Umbria region. My brother has always been a foodie, and he was blown away by the fresh taste of the everything that we ate. It was a wonderful opportunity to share some remarkable moments with my family.