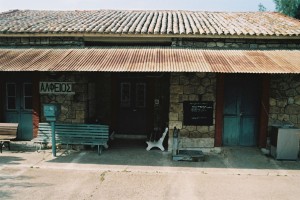 Kalamata, Greece is on the Peleponnesian peninsula and is the fork in the road that has taken us to our two favourite spots in Greece.
When Moe and I went to Europe in 2001, we took many recommendations from Rick Steves' series of travel books. We were looking for a small fishing village where we could recharge our batteries after 3 weeks on the road. Finikounda seemed like just the spot. We booked our hotel before we left Canada and after a Greek train ride to Kalamata and a long taxi ride through the narrow
mountain roads, we were tired, but happy with our decision when we arrived at our small family-run hotel. When morning broke, we could see the beach from our second story balcony across the street. Through the afternoon, small pickup trucks would drive through the streets with loudspeakers announcing what fresh produce they had for sale. The fresh fruit was unbelievable and rivaled only by the fresh fish that was caught in the bay and became the special at the beachside restaurant that night.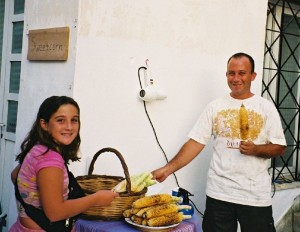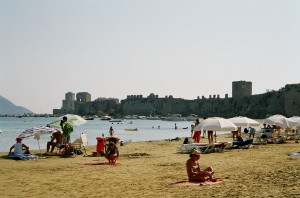 When we (OK, Moe did all the hard work) were planning our 2006 Europe trip with the girls, my parents and my brother, we were a little late to confirm accommodation for such a large group. Instead of Finikounda, we found Methoni which was just around the corner, in a slightly larger town. Moe found a small apartment which was owned by a family in Vancouver. An uncle stays in the building during the summer months and takes good care of his guests.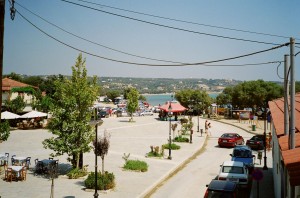 We spent four days just hanging out on the beach, wandering through the Ottoman castle just behind our apartment, seeing what the fishermen had brought in during the morning bite, and generally enjoying some quiet family time.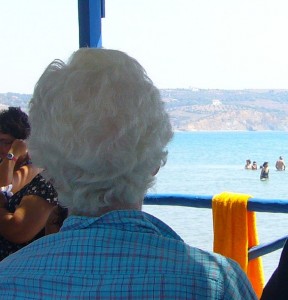 It was the first holiday that my brother had managed in 5 years and he was happy that he had joined us in Athens (a surprise for my folks) for the final two weeks of our holiday.
I can't wait to go back. Next time, we'll plan for late September when most of the tourists have gone home.