I have the very good fortune to have an old boss (and very good friend) who lives in Mexico, near Puerto Vallarta. On our recent trip to Neuvo Vallarta, we reconnected and one of the wonderful excursions that he and his partner Naomi put together for us was a sailing trip to a small village on Banderas Bay. There is small road that leads to Yalepa, but for all intents and purposes, the only way in and out is by boat.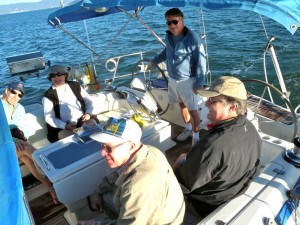 We started off early in the morning for the 3.5 hour trip across the bay. The seat of choice was a small plank that was mounted just forward of the mainstay. Even though there wasn't enough wind to actually sail, it was a beautiful day for a boat ride.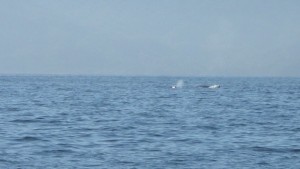 We saw skates, porpoises and even spotted a whale or two off in the distance. Even though my Dad has spend a great deal of his life on the water, it was his first time on a sailboat.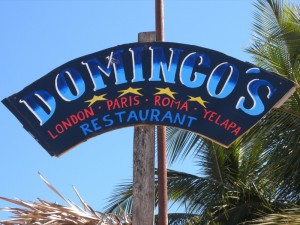 We arrived just before noon and made our way to one of the beachfront restaurants. On the day that we were there, two large boats arrived shortly after we did from the tourist centres in Peurto Vallarta and the beach chairs filled up quickly. We were thankful that we had staked our claim in the restaurant and had gotten our orders in before they did.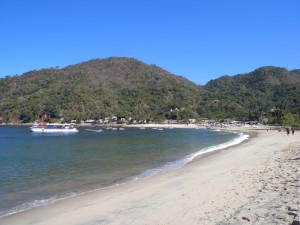 As is the case with those types of tours, the passengers were hurried from one place to another with no time to relax or soak up the beauty that was around them. We were thankful that we could watch them come and go and leave us in our little piece of paradise.
We managed to find a bit of wind in the afternoon and Andrew set the sails for our resort on the other side of the bay.