Ok, I'm stretching it a little, but I really wanted to get Georgia out, back when G rolled around.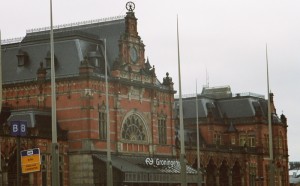 My Mom's Mom came from Groningen in the Netherlands and I've been lucky enough to visit there a couple of times. The first time was with my buddy John. We backpacked around Europe and were happy to save a few bucks when we could find a long lost relative that we could hit up for a place to stay. Fortunately, my Mom had a cousin who she exchanged Christmas cards with and they would periodically write back and forth to update each other on what changes there were to the family tree. When it was mentioned that I was coming to Europe, there was no way that I was going to not make a stop.
It was the norm for apartments in the Netherlands to have extra suites that could be made available for visitors, and John and I were put up in theirs. It was a nice break from Hostels and cheap Hotels. They showed us the local sites and made our stay a great one.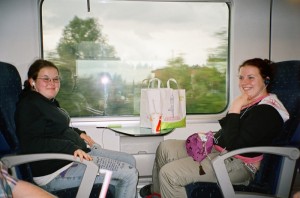 In 2006, with the girls and my Mom and Dad, we took a day trip from Amsterdam to visit Groningen and my Mom's relatives. The train left Amsterdam Centraal at 0736 and we were all still a little sleepy when during one of the frequent stops, I heard an announcement mentioning Groningen. Perfect…that's where we want to go.
After a bit, there was some clunking and some jerking usually associated with cars being de-coupled. This didn't seem right, and I jumped off to have a look…at the forward cars leaving the station. Our car no longer had a Groningen sign showing, but rather Leeuwarden. I ran back to our car and as I passed our window, I pointed at the departing car and yelled GRONINGEN! Everyone lept to their feet, grabbed their bags and jumped from the train as it started to pull out.
From that moment on, GRONINGEN! became our battle cry; our call to arms through the rest of the trip.
We made it to Groningen 30 minutes late after we waited for the next train to pass through Zwolle to pick us up. We had a wonderful visit with our relatives. They had arranged for a luncheon in the beautiful station's cafe and a canal cruise through town. The family tree has lost a few more branches since we were there, but it was great that my kids got a chance to meet some of their European family and hear some of the stories of their past.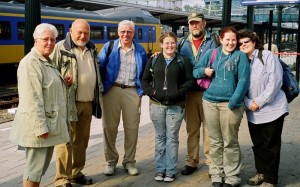 One story that I will always remember was about my Mom's Uncle Engel. He had come to Canada with his sister and when WWII broke out he joined the Air Force. He fought through the war and during the Liberation of Holland, he was one of the proud Canadians who freed Mom's cousins in Groningen. She can still remember sitting on his knee and pulling a chocolate bar from one of the pockets of his fatigues.