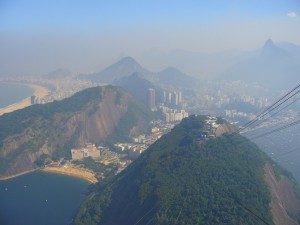 No, not that one. OK, that one too.
We've been doing business in Brazil for about 10 years now. In the beginning it was to the Navy's Southern Base in Rio Grande do Sul. It is so far south, in many ways it reminded me a lot of the West Coast of Canada. It can be cold, wet and windy out on the water.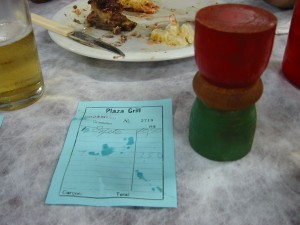 One of the things I love about Brazil is the food. It's simple meat and potatoes (and more meat) sort of cooking. If you've never had Churrasaria, you should. It usually consists of a self serve salad/vegetable bar and a barbeque. The waiters bring around skewers with a variety of meats, cheeses and innards they serve at your table. There is always a card or indicator that has a red and a green side to indicate when you've had enough (or need a rest).
Something that my hosts showed me on my first visit was a small scale rail track that you could sail on. The rail was laid when a breakwater was being built to get the stone blocks out to the working edge. After the work was completed, the rail was left and entrepreneurs have made a small business of taking people for rides. On the weekend we were there people were fishing, cooking barbecue or just relaxing in the sun. Below is a short video that shows some of the sites of Rio Grande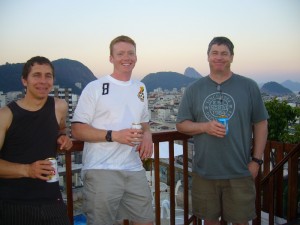 Lately, our trips have been to Rio de Janeiro and Niteroi which is city across the bay. People from Rio joke that the only reason to go to Niteroi is for the view (of Rio). I prefer Niteroi. During the times that I have spent in Rio, I always felt (rightly) wary of everyone and every situation. Niteroi is much more relaxing and we would think nothing of taking a walk on the beach back to our hotel from the restaurant district. It is not recommended for foreigners to wander Rio in the daylight let alone the dark.
We were lucky to be invited to join a group that were going to one of the local football matches in Maracana Stadium on a recent trip. It's an unbelievable experience to be in a stadium that holds 200,000 people. On the night we went, there were perhaps 30,000 people cheering for their team and waving some of the biggest flags that I have ever seen.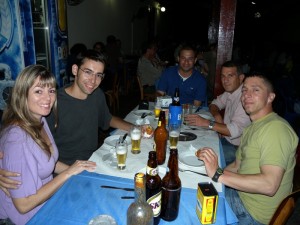 Of course, what makes any travel truly memorable is the friends that you meet and keep in touch with over time.