I flew up here this morning to travel out to a Met Tower that's located in the middle of Hecate Strait.
The tower has been in place for last two or three years and is collecting data to evaluate the location's suitability for a wind farm. We have been contracted to provide some routine and emergency service over that time frame to keep the system up and running.
One of the problems with that location that makes our job harder is that it's well…windy a lot of the time.
We arrived in Masset mid morning, met our contact and made sure that all of our gear was in place and ready to go. Another problem with the location…is the location. You want to make darn sure that you have everything that you're going to need before you climb that 60 foot tower 10 miles offshore.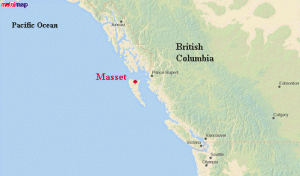 When we were happy that we were ready, we set off exploring the area. Masset is located near the North East corner of Haida Gwaii. There is a road that runs from Masset eastward along the shore. The road turns from pavement to gravel, then winds its way through the ancient forests. The forest floor on either side of the road is covered in a mossy carpet. The trees hang heavy with mosses that drip from the branches.
When we reached the end of the road, miles and miles of sandy beach stretched for as far as the eye could see to the east. We walked along the beach and I spotted a couple on one of the logs. It appeared that was kneeling down in front of her. Then she opened something and they embraced. They saw us watching, she showed us the ring and we applauded and gave them the thumbs up.
My B&B is tucked into the waters edge overlooking the fishing boats. This particular B&B is run by Susan Musgrave. It is full of her books and the art of her husband, Stephen Reid. The guest book reads like a who's who of the Canadian Literary world. Pierre and Maggie spent some time here as well.
Just another day at the office.